WHAT IS BEATLE STYLE LTD?
My company (Beatle Style Ltd, registered #10371547) is based in Brighton & Hove, Great Britain. We specialise in high quality 'Beatle' clothing which is 100% made-to-measure. "Beatle Style Ltd" is not endorsed by or affiliated with Apple Corps Limited or The Beatles.
HOW LONG DOES IT TAKE TO GET MY CUSTOM MADE CLOTHING?
30 days or less. It takes approximately 10-14 days to tailor-make your suit and then 4-7 days to ship it to your home or office, so it can be faster than 30 days but it really depends on the type of fabric and the details you have specified. Your suit will be sent by fully tracked DHL International Shipping.
HOW LONG DOES IT TAKE TO GET MY ACCESSORIES?
About a week. I normally send badges, patches and ties by Royal Mail economy class.
CUSTOM MADE CLOTHES - HOW DOES THE SIZING WORK?
Absolutely everything is 100% custom, tailor-made using a unique system that guarantees a perfect fit. We ask you to spend 15 minutes to obtain a set of unique personal measurements (for a jacket: chest, shoulders, waist, hips, jacket length and sleeve length…for a suit add: trouser waist and hips, inside leg, outside leg, thigh and hem…for a shirt add neck size) and we make your clothing exactly to your sizes. It is therefore extremely important that you take your measurements carefully because your jacket, shirt or suit will be made exactly to the measurements you supply (obviously we add to your actual chest, waist and hip sizes, depending on whether you prefer a slim, regular or loose fitting). The best way to provide your measurements is to complete the online form HERE. Alternatively, you can DOWNLOAD detailed instructions and send back your measurements by email. You can also open the measurements form by scanning this QR code with your smartphone: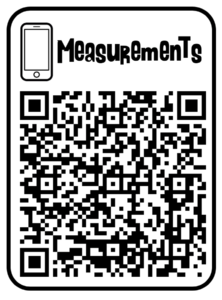 HOW CAN I PAY FOR MY CLOTHING OR ACCESSORIES?
The easiest way is by PayPal. Just send payment to my PayPal address which is help@beatlestyle.com, or scan the PayPal QR code below: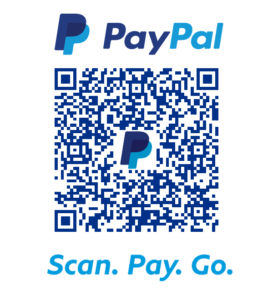 Or, if you prefer, you can pay me by bank transfer:
Bank: Lloyds Bank, Hove, UK
Account name: Beatle Style Ltd
Sort code: 30-96-96
Bank account number: 70954860
Swift: LOYDGB21011
IBAN: GB17LOYD30969670954860
Company Business Address:
Beatle Style Ltd., 90 Cromwell Road, Flat 1, Hove, BN3 3EG, East Sussex, United Kingdom.
Tel: 0044 7947 885138
Email: help@beatlestyle.com
WHAT IS YOUR RETURNS POLICY?
Remember, this is essentially an online custom tailoring order which means we can offer no second 'fitting' or modification after you have received the clothing. That said, we genuinely do have a 100% satisfaction record (with many, many testimonials to back this up), so if for some reason you are not completely satisfied with the clothing you have received, you can return it within 30 days of receipt for a full refund* (just please cover the cost of return shipping).
*When you complete the 'Your Measurements' form, you will receive a copy of your data – please check them carefully because my 'money back guarantee' is based on these measurements being correct (according to the instructions given on my website). If you want to amend anything / ask any questions, please just send an email to help@beatlestyle.com asap. Unless you spot an error with your supplied measurements, or I have any clarifying questions on your supplied measurements, I will get started within 5 days and you'll have your new gear within 30 days!
Trust us, if you obtain the measurements exactly as we specify, you will be delighted with your suit and will be back for more! (by the way, unless you tell us otherwise, you only need to measure once because we keep your measurements on file for any future orders).
I AM WORRIED I WILL MAKE A MISTAKE TAKING MY MEASUREMENTS, WHAT CAN I DO?
Although providing our required measurements takes just 10-15 minutes, we've been asked if its possible to get help. So we introduced a new service: walk into any local tailor, wherever you live, and ask him to help measure you up according to a sizing document that you can get from this website. We will then give you a discount of £20 (hopefully this is enough to cover the cost of the tailor's time). Then you send us your measurements and we make your suit. Alternatively, if you send me a well-fitting suit (or separate trousers and jacket, they don't need to match), then I will copy the sizes and make you a suit that fits you the same way. I will then deduct the cost of postage from your order. Please email me to get my full mailing address.
WHAT OTHER STUFF DO YOU HAVE?
I source vintage fabrics to make certain items such as the 'Granny Takes A Trip' influenced jackets. I also create jackets and suits based on the 'Dandie Fashions' London styles of 1967. If you have any item of clothing in mind, please send me a photograph for a quotation.
CAN YOU MAKE MY SUIT EXTRA SPECIAL?
Yes I can do some customisation if you need, such as:
Coloured button-holes (e.g. to match a custom coloured suit lining)
Custom colour suit lining
Union Jack suit lining (please ask!)
Add a John, George, Paul or Ringo label into your jacket and/or trousers
Gift-wrapping (please ask for the availability and pricing of all the above items)
CAN YOU MAKE A BEATLES SUIT FOR MY CHILD?
Yes I can, just try to get me as many of the measurements as you can using this form. I understand if you cannot get all of them, but the more the better. I give a discount for children's clothing, drop me a line for details. More products will be added to this site over time. Please get in touch if you have any questions at all about any item on this site.
CAN I SEE SOME PHOTOS OF THE CLOTHES?
There are some on this website and if you send me an email I will respond with some more photos of whichever item you are looking for.